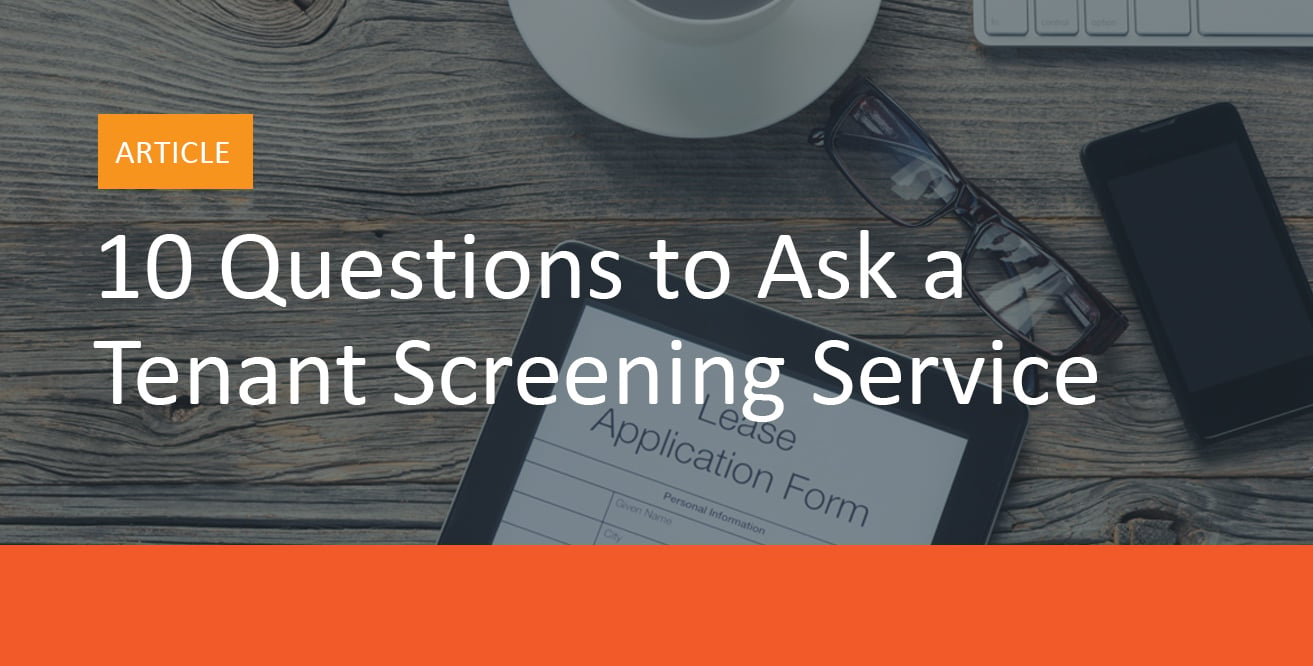 Choosing a tenant screening agency beats browsing through a hundred online rental applications, but not all services are created equally. Asking these 10 questions ahead of time can help make the choice that's right for you.
1. Why Do I Need a Tenant Screening Report?
Won't an application and a few reference checks be enough? The last thing you want is to make more work for yourself, and signing up for a tenant screening service seems a little over the top…or is it?
In truth, the right screening service frees you up to concentrate on tasks only you can oversee, and that's not all.
With tenant screening reports you get:
Data-backed information: Forget guesswork and trying to assess an applicant's suitability based on scattered tidbits and a gut feeling. Tenant reports gather statistics and generate predictions grounded in verifiable information.
Easy access to a wide variety of resources: Try and poke around a potential resident's history yourself and you're bound to run into hurdle after hurdle. Tenant screening services know the process inside and out, and they'll get from A to B far faster — and for far less investment — than you ever could.
Peace of mind: Thanks to those aforementioned facts, you can rest easy knowing you picked a candidate based on who they are and what they've done rather than whatever image they're trying to project.
2. What Products Does Your Tenant Screening Service Offer?
If you're going to sign up for a tenant screening service, make sure they have a comprehensive portfolio of products. Few things are more frustrating than navigating the onboarding process and paying your fees only to find out it's not what you expected.
MyRental offers a full range of tenant screening products including:
Online rental applications
Tenant Score & Tenant Score PLUS
Credit reports
Criminal searches
Eviction history
Previous address history
Sex offender registry search
Terrorist Watch lists
While each report is valuable on its own, you can't grasp the big picture without the context the other reports provide. The safest approach is the most thorough one.
3. Do You Offer an Online Rental Application?
Your tenant application is the very foundation of the entire search process, but the old pen-and-paper versions may be more hassle than they're worth between finding time to pass the application back and forth between the consumer and the property owner and then trying to read the consumer's handwriting.
Perhaps most importantly, paper applications are inefficient. You end up with a stack of apps — some of which are incomplete or require follow-up calls — and you may find yourself struggling to get your tenant search off the ground.
Upgrade to an online rental application. Potential renters can download an easy-to-use app and upload their information while at work, waiting in line, or over drinks at happy hour. Need permission for a screening or additional information? You can tack that on without any hassle. And best of all, prospective tenants can't submit their applications without completing required fields, saving you the time it takes to notice incomplete information.
4. What Information Do I Need from Potential Tenants?
Exactly which details you need depends on the type of searches you're running and what the source organizations ask for, but a great online rental application will set you up for success by including the essentials. You won't need ALL of the following information to run a screening, but if possible, try to get answers to the following questions:
Applicant's name and contact information
Number of occupants and whether they have minor children and/or pets
Income history
Employment info
Address history
Preferred move-in date
Requested lease term
You'll also need a Social Security number for some background checks and written permission from the applicant. Does your tenant screening service help you with all these things? If not, what are you paying for?
5. Which Credit Bureaus Do You Work With?
MyRental works with TransUnion, one of the three major credit reporting agencies, to review an applicant's credit history, which includes credit card accounts, car loans, mortgages, and any court-related financial matters.
MyRental credit checks are considered soft pulls, meaning they retrieve a credit report without affecting your actual score. That's a major bonus for anyone sending in multiple applications or who might be buying another major item on credit soon, as the more credit inquiries you have the greater the impact on your score (and not in a good way).
6. Do the Screenings Use Reputable Sources?
Sourcing matters. The information contained in a screening report is only trustworthy if it comes from a source known for accuracy. For that reason, it's important to know how your tenant screening service is getting their data.
MyRental works with authoritative entities such as local Departments of Corrections, the Administrative Office of the Courts, and Departments of Public Safety.
7. Do I Have to Purchase Each Screening Product Separately or Are There Package Options?
Like most things, screening reports are more economical if you buy them in bundles rather than piecemeal. Since that also gives you more information to make your rental decision, it only makes sense to send off for multiple checks at the same time — not every agency offers that option.
MyRental offers individual reports at great prices for those instances in which you need to supplement a previously run check or if you need specific information in a hurry, but our tenant screening packages provide the best value. Choose from Basic, Premium, and Premium PLUS, depending on your needs, and take care of the entire screening process in one fell swoop.
8. Can I See Sample Reports Before Signing Up?
You wouldn't buy a car or a house sight unseen, so why would you pay money for a report without knowing exactly what you'll be getting? The MyRental FAQ includes links to samples, such as the SafeRent® Score and Multi-state Criminal Report, so you can see exactly what you'll be getting before signing up.
9. How Difficult is it to Create an Account?
The MyRental tenant screening process is remarkably simple. It takes only minutes to create your online account, then you can start the screening process by selecting a package, setting up your property, entering your applicant information, submitting payment (either you or the potential tenant will submit the payment, depending on your agreement), and the rest is out of your hands.
MyRental sends a follow-up email to each applicant so they can add in required information and release their reports. Once that's done, you'll get a confirmation email and access to the final reports. To make a decision, click on Accept Application or Decline Application on the Lease Decision page — it's a fully integrated system that includes the ability to download, print and send letters directly to your applicants.
10. How Will I Make a Final Decision?
Having all this information can be overwhelming. That's why MyRental has gone the extra mile to create Tenant Score, a three-digit number that relays each applicant's potential risk. It's an unbiased way to evaluate the risk of a potential tenant rather than simply guessing or hoping your intuition is leading you in the right direction. Add on Tenant Score PLUS and you get a comparison chart showcasing how your applicant stacks up to other renters in your area and how landlords have looked at applicants with similar scores.
Ready to get started? Create your MyRental Account and see how easy the screening process can be.
Posted by Admin 9:30:17 PM
Subscribe to Email Updates