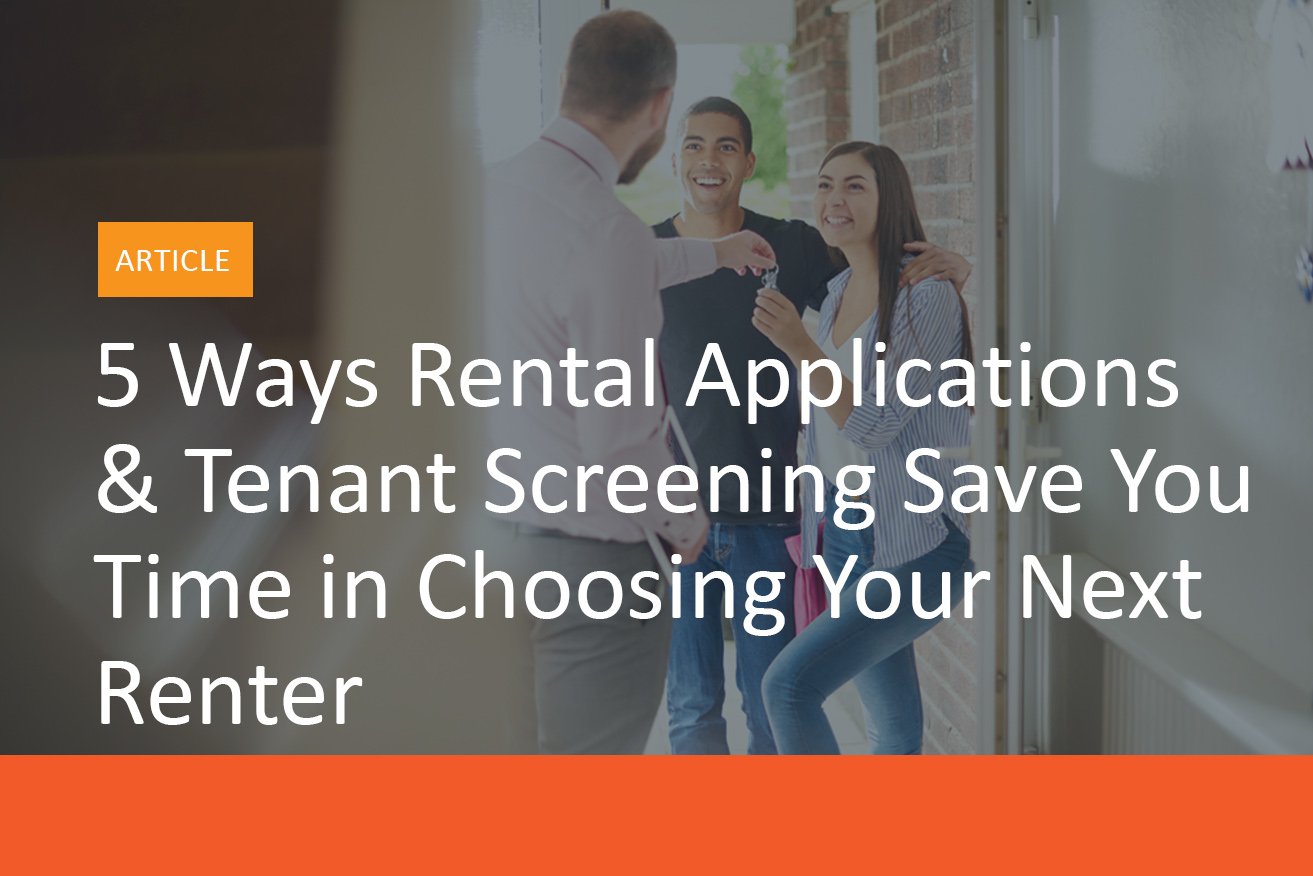 Choosing your next renter can be a complex, frustrating, and draining process. However, embracing online rental applications and tenant screening services can save time and help you narrow the field with remarkable speed.
1. Online Rental Applications Deliver Information Quickly
People are busy. Between running the kids to school, working crazy hours, and seeing to obligations ranging from soccer practice to family dinners, nobody has time to squeeze in a drive to your office to pick up or drop off paperwork. You probably don't have time to wait around for those drop offs, either.
Paper applications are as outdated as bell bottoms and payphones. Upgrade to an online rental application and everybody wins. Potential renters can access the application on almost any device, using their computer, smartphone, or tablet to submit their application, and there's no longer an excuse for late submissions.
Landlords now have the ability to collect applications at a brisk pace, and there's now the added ability to add tenant screening services to the applications. An expertly designed application also includes space for all the details you need:
Names of applicants

Number of adults, children and pets who will be occupying the property

Income history

Employment details

Current and former addresses

Requested lease term

Preferred move-in date
No more accidentally omitting a key question and having to chase down answers. Rather than waiting for documents to dribble in, you receive them up-front so you can get to work.
2. No More Scouring Social Media for Information
Some landlords rely on social media to research tenants. While you're getting carpal tunnel flicking through Facebook feeds and trying to access your applicants' Instagram profiles, other landlords are using tenant screening services to obtain real information in record time.
Social media isn't always reliable, either. People are prone to painting an overly rosy picture of their life and omitting details that could cast them in an unfavorable light. You won't often see someone on Twitter confessing they haven't paid their rent, and they certainly won't be advertising their multiple convictions for property damage. Only professional tenant screening reports deliver trustworthy insights rapidly.
3. Eliminate Unsuitable Candidates Before Committing to a Showing
You're bound to get applicants who simply aren't a good fit. When the math doesn't add up or your expectations and the applicant's reality are at odds, it's better to cut your losses early so you can concentrate on more promising home seekers.
Start by drawing up a wish list of what you'd like to see in a tenant. Contact your attorney and review state and federal guidelines that may limit or dictate what attributes for which you can consider when evaluating a candidate. You may also want to concentrate on factors that could actually impact how someone will treat your property and adhere to their lease:
Is their income at least three times total rent? Experts recommend spending no more than 30% of your income on housing to leave a comfortable margin for other bills and unexpected expenses.

Do they have a clear eviction history? Life is known for throwing curve balls, and that might mean major medical bills or a family situation that results in an eviction. It's okay to have sympathy or review context, but multiple evictions are a major red flag.

How is their credit score? Just 1% of the population has a perfect 850 credit score. The average is closer to 700. Scores consider everything from length of credit history to amounts currently owed, painting a thorough picture of a candidate's creditworthiness and providing a strong indicators as to whether they're likely to pay rent on time.
Do they have a criminal history?

Invest in criminal background and sex offender registry searches and you'll have access to resources such as the Department of Public Safety, the Department of Corrections, and the Administrative Office of the Courts to see who has been incarcerated, convicted of a crime, and/or placed on the sex offender registry as part of their sentencing.

How often do they move? When you have to hunt for a new tenant, the search costs money and drains other resources including your time and energy. It makes sense that you'd gravitate toward an applicant who tends to stay in one place for more than a year or two. Still, people move for a lot of reasons including military relocation, job transfers and a desire to upgrade their living situation. Knowing address history lets you cut to the chase and ask for clarification when appropriate.
Having all of the above information in-hand before attending in-person meetings can help you whittle down your list of prospects to the ones who you know are most likely to be a good fit.
4. Replace Frustration with Confident Decision-Making
As a landlord, rental properties form some or all of your income stream. The individuals to whom you choose to rent could impact everything from your peace of mind to your financial future. Are you putting all that on the line by guessing which candidate is the right fit?
Even if you're not closing your eyes and picking a name out of a stack, deciding on a renter can feel like a crapshoot if you're struggling to weigh the results. Instead, look to unbiased tools like MyRental's Tenant Score. This score is structured much like a credit report; you get a three-digit score ranging from 200 to 800, which helps predict whether or not an applicant is likely to default on their lease.
Tenant Score relies on a bevy of information including:
Basic details from the tenant application

Past payment track record

Eviction history

Past due accounts

Bankruptcy records

Credit scores and related data
For even greater insight, there's Tenant Score PLUS - a chart that shows how a potential renter's Tenant Score stacks up against other people in your region. Refine the comparison by ZIP code, city, or metro area to see how other landlords react to applicants with similar scores and use those discoveries to fuel your own determination.
A Tenant Score may not be the only factor to consider, but it could fast-track your deliberations by reframing the process as an objective endeavor rather than a subjective one.
5. Learn About Reliability Early on With Tenant Screening Services
The more reliable a tenant is, the more reasonable it is to expect them to fulfill their obligations, including paying their rent when it's due. While gauging someone's reliability may seem like something that only happens over time, there are clues early in the application process, starting with how quickly return their application. Also note how quickly they respond to phone calls, whether they turn in a complete application or if they're missing documentation, whether they're punctual for rental showings, and whether their screening reports show a pattern of job-hopping.
Accelerate your next search for the perfect renter and minimize hassle with tenant screening services. To get started, sign up for a MyRental account today and reclaim your time.
Posted by Admin 9:00:00 AM
Subscribe to Email Updates