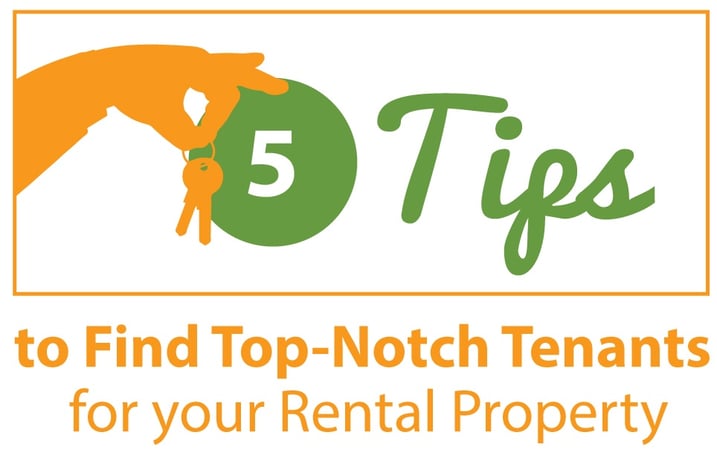 The secret to being a successful landlord is this:
Finding and retaining good tenants.
Sounds simple, right? But there are some important points to keep in mind when looking for top-notch tenants.

Advertising is the key to finding quality tenants.

They say the key to real estate is location; however, the key to finding quality tenants is advertising. Be cautious about using generic sites like Craigslist that have a real estate section. Reputable rental listing sites equate to reputable tenants. Rent Jungle is a great listing site that offers easy-to-use tools to create a listing, upload photos, and even review analytics for your listings. You can also list through a Rental Listing Marketplace. Be sure to also check locally to see if there are any advertising opportunities specifically for your area.

So now you need to write your listing. Obviously you need to include "the basics" like the number of bedrooms, bathrooms, room sizes, parking availability, and so on. But go beyond the basics and give your property a personality. Is your property a Dutch colonial in a historic district with original stained glass? Or a loft with exposed brick and a remodeled bath with a cast iron claw foot tub in a trendy downtown neighborhood? Say it! Create a story about your property that goes beyond basic information. That will be sure to get your ad a lot of attention!

Have a response ready.
When someone reaches out to you about your rental property, have a standard response ready that includes your specific criteria. For example:
Thank you for your inquiry. The apartment will be available June 1. I've attached a link to photos I took before the current tenants moved in for your review.
This unit is a two bedroom apartment on the first floor of a two family private home. You will have access to half of the garage, which will fit one car. You will also have storage space in the basement.
No cats are allowed.
I show the unit by appointment usually between 7:00 p.m. and 8:00 p.m. during the week, and on Saturdays between noon and 3:00 p.m., again by appointment. As I mentioned previously, the apartment is currently occupied, so I need to coordinate with the current residents.
Please note, I do not accept Section 8. If you have had an eviction or you have had recent criminal activity including DUIs, I generally will pass on you. If you are not a legal resident of the USA, I will not be able to rent to you either.
I will be looking for tenants with a 700+ credit score and a household income of at least $50,000 per year. If you have a history of foreclosure, I can work with you a bit on this. I will also ask for information from you to run a check on http://www.myrental.com/.
If you are still interested in looking at the apartment, or have additional questions, please let me know.
[Additional Pictures Attached]

By answering each inquiry with a prepared email outlining your requirements and photos of the apartment's interior, you've eliminated a lot of time and effort meeting with people who will not meet your minimum prerequisites. Set up an email address specifically for renting your unit so your communication stays grouped within one account.

Meet each potential tenant in person.

This person may wind up living in your property, so don't rush this appointment. Meet the potential tenant at your property and walk them through it one-on-one. You can use this opportunity to talk to them and learn a little more about who they are. Are you renting a single family home? Tell them how many people maximum you want living in your property. Did the prospective tenant reschedule the appointment multiple times or arrive to the appointment late? While talking with the tenant, does he appear nervous? Is he trying to avoid answering your questions? Does the information he's telling you now match what you were told during the initial inquiry? The person's demeanor and their responses are key indicators you should take into consideration.

Purchase a tenant screening reportand know your local/state laws.

Today you need to go beyond a simple credit check. Find out if your potential tenant is on a sex offender list, has a criminal history, or prior evictions. You can do this by purchasing one of our tenant screening reports through MyRental™. If you are a housing provider that receives Housing and Urban Development (HUD) funding, has loans insured by the Federal Housing Administration (FHA), or lenders insured by FHA, you may be subject to HUD program regulations intended to ensure equal access of LGBT individuals. Also, make sure you are following the Fair Housing Rules from HUD. All of this information will help you secure a top-notch tenant.

Get money upfront.

When you decide on your new tenant, tell them to bring the first and last month's rent and a security deposit when it is time to sign the lease. Get it in the form of either cash or a bank check (also known as a cashier's check) and provide a receipt. A bank check is guaranteed by the bank so you know it will not bounce. Make sure to walk your new tenant through the entire property and answer any questions they may have. Review even the small things like who is responsible for taking out the garbage. Get everything in writing and take photos of the property prior to the move-in. This will protect you against any potential claims of damage responsibility or repairs by your tenant.
So what does this all mean?
The rental market has been hot for quite some time and according to a recent report from CoreLogic®, nothing that home and rent prices will continue to increase. As the rental market continues to strengthen, landlords can afford to be picky when considering tenants.
Disclaimer: The information in this article is solely for editorial purposes and should not be viewed as recommendations of CoreLogic.
Posted by Admin 11:00:46 AM
Subscribe to Email Updates