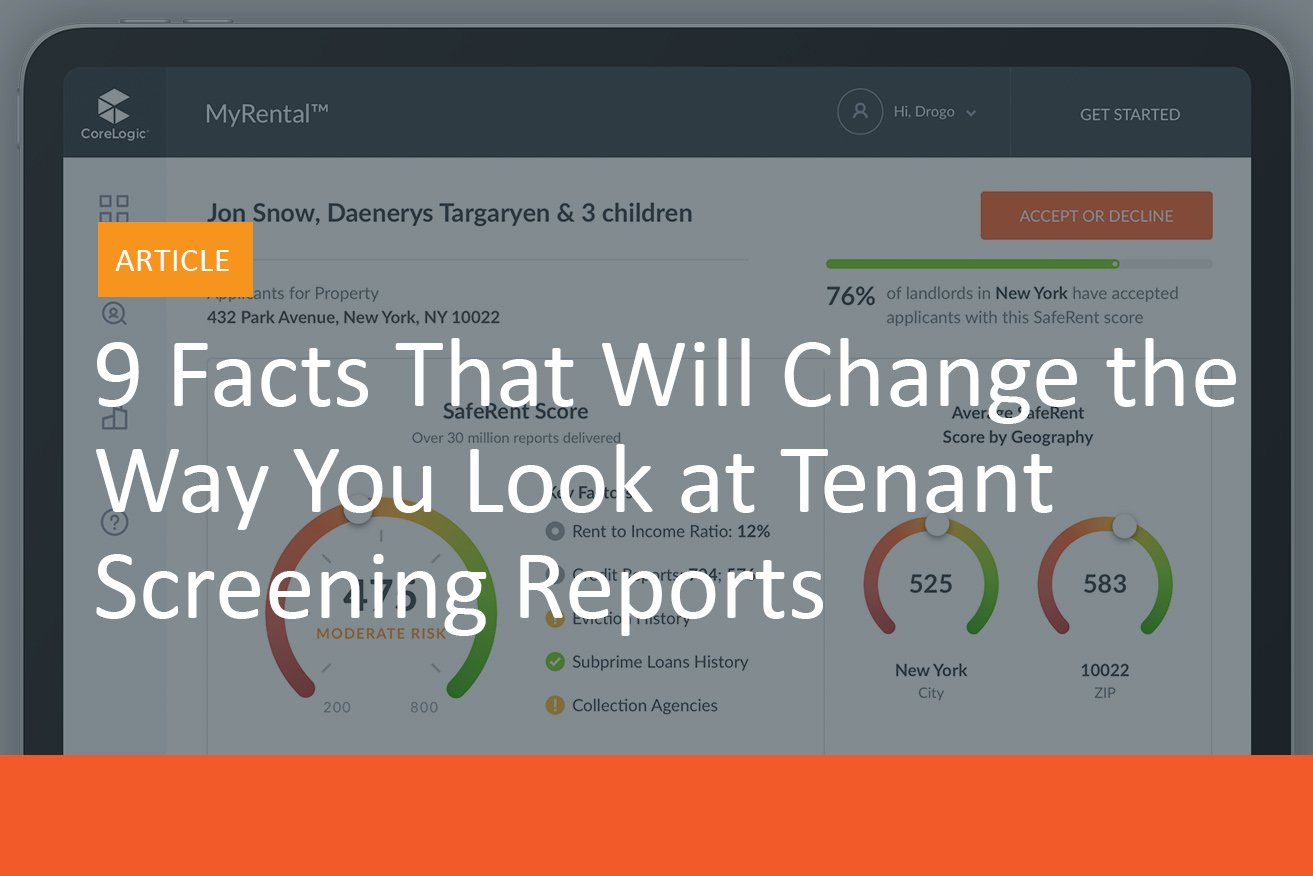 You may already know how convenient online rental applications are, but what about tenant screening services? If you think these reports are overkill, absorb these eye-opening facts and think again.
1. We Have the Highest Number of Renters in the United States Since 1965
Nearly 37% of American households are renting their home, the highest percentage of renters in the last 50 years. That's more than 121 million people happily ensconced in rental properties and a huge pool of applicants from which landlords like you get to choose. With all that choice, though, comes a lot of legwork. How will you sift through a sea of potential tenants and find the one who's the best fit?
Tenant screening streamlines the process, providing a thorough slate of important information while freeing you up to do other things.
2. Online Rental Applications Are the Best Way to Connect with Renters
The average American adult spends in excess of 11 hours each day watching or otherwise interacting with digital media. Nearly four hours of that time is spent on smartphones, tablets, computers and other internet-enabled devices. In sharp contrast, think about the last time you strolled to the mailbox to send a letter. You're probably less likely to find the time to drive across town and hand in paperwork with work obligations and personal responsibilities also vying for your precious time.
If you want to increase your applicant pool and generate a higher number of potential tenants, switch to an online rental application. A simple browser-based form or free, mobile-friendly app lets prospective tenants submit their information while they're on the subway, waiting in line at the grocery store or binge watching their favorite TV show. You can even add a tenant screening request to the application and save everyone a lot of time and needless back and forth.
3. There Were More Than 1.2 Million Violent Crimes in 2017
According to the FBI's Uniform Crime Reporting Program (UCR), 2017 saw some 1.2 million violent crimes and 7.7 million property crimes committed throughout the United States. Illegal activity is a fact of life, and you can't always tell who has a criminal history simply by looking at them or reading through their application.
Invest in a criminal background search and you're protecting yourself, your other tenants, and your community by knowing whom you're inviting into your property before anyone signs on the dotted line. MyRental's criminal search mines sources such as the Department of Corrections and the Administrative Office of the Courts to determine whether an applicant has been incarcerated or charged with a crime. From misdemeanors to felonies, county crimes to those in a multistate radius, these searches inform your decision-making process in ways a simple online search never could.
4. People Move Around a Lot
On average, most Americans will make 11 moves in their lifetime. That's 11 rental applications or home purchases, 11 new starts, and 11 reasons for landlords to give their current application a bit of extra scrutiny.
At first glance, a frequent mover could seem like a big risk; after all, if they relocate every other year, that means you'll have to spend money retouching your property, marketing it again, and repeating the entire screening process. But not all moves are cause for alarm. While some moves could come on the heels of an eviction or other nefarious circumstance, people switch homes for other reasons too:
15% want to upgrade their living arrangements
15% move for family reasons
14% want to change their housing
10% are moving out on their own
9% are moving for a new job or because their current company is transferring them
Understanding why people move is perhaps even more important than knowing they've moved in the first place. While tenant screening can only inform you of the latter, having that information enables you to ask crucial follow-up questions. The answers to those questions could change your mind about someone completely.
5. The Average Credit Score Is About 700
According to CreditDonkey, the average credit score in the United States is 699. For landlords evaluating tenants based on a fairly wide credit score spread of 300 to 850, choosing the applicant with a 699 score may seem like settling, but only scores below 550 are considered by experts to be "poor." Just 20% of the population has a score at or above 800 and a measly 1% of the population can boast a perfect 850.
Could you find a suitable tenant with spotless credit? Sure. Is it the most likely scenario? Probably not, and understanding that ahead of time could prevent you from nixing an applicant with a mediocre credit report who is otherwise imminently suitable.
6. Most U.S. Households Have a Pet
Some 85 million families in the United States share their home with a pet, including approximately 60 million with dogs, 47 million with cats, and 4.7 million with reptiles. Unless you meet up with your potential tenants at the closest dog park or run into them at the pet store, you'll never know they have a furry or feathered friend unless you ask.
A thorough rental application will include space for renters to disclose information about their pets, including number, type, and size. Given the statistic above, it will be difficult to find an applicant who ticks all the boxes on your wish list and also doesn't have a pet, but knowing more about the family will give you the option of choosing between a couple with eight Great Danes and one with a teeny tiny goldfish.
7. Landlords Filed 2.3 Million Evictions in 2016
With an estimated 2.3 million evictions filed each year, landlords are ousting tenants (or at least trying to) at a rate of one filing every four minutes. There are a lot of legitimate reasons for legally requesting a tenant vacate your property:
Failure to pay rent
Violation of lease terms
Property damage
Illegal activity on the premises
Overstaying the agreed-upon duration of the lease
That said, sometimes there are mitigating circumstances. A tenant may experience a health crisis or get unexpectedly laid off and suffer a major financial setback as a result. Context is important, but so is your own income and security. An eviction history report includes public landlord and tenant court records, indicating whether an applicant has ever been legally asked to leave a rental property due to the reasons above. It won't tell you whether you should accept a potential renter or not, but it could help shape your decision.
8. There Are More Than 859,500 Sex Offenders in the United States
According to a 2016 report from the National Center for Missing & Exploited Children, there are some 859,500 registered sex offenders in the United States. Offenders are only forced to register if they're convicted of a crime, making the database a reliable record of guilt.
Do you know whether your potential applicant is on the registry? The only way to find out is to conduct a multistate search that pulls from sources in each of the 50 states (plus key U.S. territories), taking advantage of databases created and monitored by law enforcement agencies including State Police, various Bureaus of Investigation, and Departments of Public Safety.
9. The Best Tenant Screening Services Offer Their Own Tenant Scores
Choosing a new tenant can be a lot like online dating: you have a lot of facts and a general idea of who someone is, but in the end, you still feel like you're randomly picking someone and hoping things turn out for the best. That's not a great feeling.
MyRental eliminates the uncertainty by creating a three-digit tenant score summarizing each applicant's potential for defaulting or fulfilling the terms of their lease. The scores run from a low, risk-laden 200 to a near-faultless 800, incorporating key information such as:
Basic applicant details such as name, address and employment
Payment performance
Eviction history
Any past-due accounts
Bankruptcies
Credit scores and related reports
All of those details are funneled into an algorithm, and you receive a simple, straightforward score to help guide your final decision.
The more you know about potential renters, the more likely it is you'll choose someone who will respect you, your property, and your need for on-time rent payments. Investing in tenant screening services can make your life easier today, tomorrow, and for the life of your new renter's lease.
Topics: property rental, rental applications, background check
Posted by Admin 10:00:00 AM
Subscribe to Email Updates