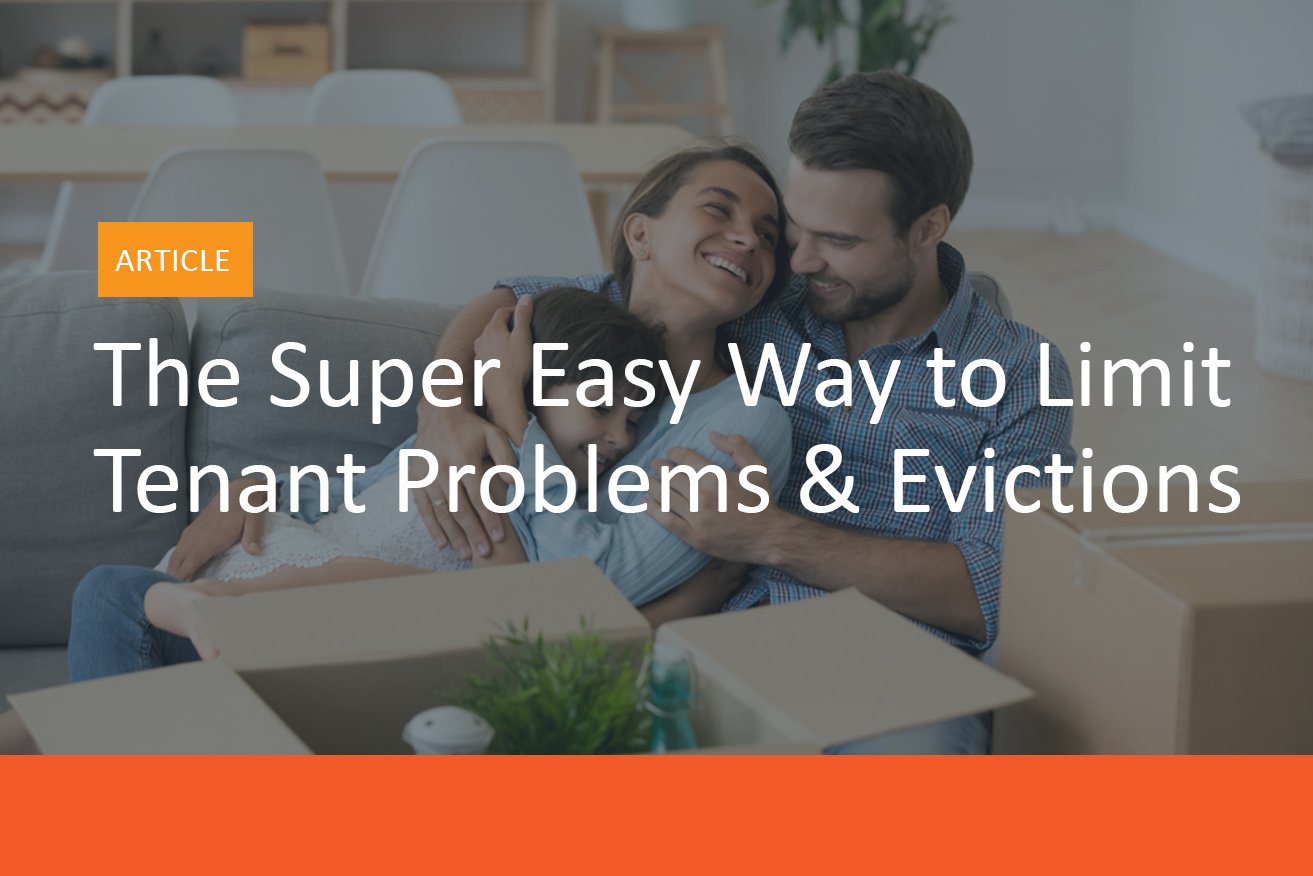 Odds are high that many of your applicants have been evicted or fought to stop an eviction. Each year, approximately one million evictions are filed and 1 in 40 renters get evicted. Some of these renters bounce back from the eviction process and become reliable tenants, while others couch hop for years before applying at your property.
But how can you tell the difference between the two? Sometimes it's difficult to thoroughly vet an applicant when you need to fill a vacancy quickly. This puts you at risk for tenant problems like late payments, property damage or even eviction. That's why we offer tenant screening services via a convenient online rental application.
What Are Tenant Screening Services?
Tenant screening services help everyone from single-property landlords to leasing agents at large apartment complexes identify risky renters. We offer screening tools for individual applicants as well as bundles for landlords who process a large number of applications.
At a landlord's request, we can bundle our tenant screening services with our online rental applications and can even perform screening after a potential renter submits their application.
You might be wondering why tenant screening services are necessary if you already include questions about rental history, employment and criminal activity on your application. Well, some applicants are simply going to be dishonest while others may earnestly forget to mention important information that could affect your decision. A tenant screening service verifies that applicants are who they claim they are — without any surprises.
What Information Can a Tenant Screening Service Find?
When you screen tenants you can find basic information, such as an applicant's address history or employment report. You can also search for big issues such as criminal records or evictions.
Here is some data you might discover or verify during a tenant screening:
MyRental can also provide you with a tenant score. Similar to a credit score, this three-digit score helps you determine whether a tenant is likely to pay rent on time or disappear after a few months.
You can even compare tenants with other renters in the area using Tenant Score PLUS. This tool creates colorful charts that clearly detail data for local renters. Find out if your applicant has a score higher or lower than the city average, and check how other landlords handle scores similar to your applicant's score.
Why Does Tenant Screening Work?
While it's true that someone may get evicted once and then never fall behind on rent again, the reality is that many tenants have predictable patterns. They either have a history of stable payments or a slew of rent-related judgments, and it's important that you know who you're dealing with when you receive an application.
Thousands of landlords use our screening services for tenants, so we've compiled and reviewed years of data. This helps you identify risky renters and make data-driven decisions.
We analyze past behavior as well as recent actions and then compare this info with other renters in our database. This lets you know whether a tenant is likely to fulfill their lease even if they've had some issues with previous landlords. It also helps you determine if someone with decent credit might still default on your lease.
Aside From Eviction, What Are Some Potential Tenant Problems?
Many landlords mistakenly assume they only have to worry about the threat of eviction. However, risky tenants can create numerous issues for you and other tenants. Here are some problems you might face if you rent a property to a bad tenant:
Property damage — either to the renter's own unit or to nearby tenant's property
Excessive noise to the point where police get involved or other tenants move
Illegal activities, such as illicit substance usage or underage drinking
The use of residential property for commercial purposes
Domestic violence
Theft or assault
Habitual late payments
Hoarding
Costly repairs due to neglect or misuse
Insect or rodent infestation due to uncleanliness
As you can see, there are quite a few things that can go wrong when you rent a property. Tenant screening services help reduce the risk of having a bad rental experience, so you can make property management as hassle free as possible.
How Do Tenant Screening Services Benefit Renters?
You may think that all you have to do is offer a well-maintained property at a reasonable price to attract quality renters. Unfortunately, these actions aren't enough to keep properties filled with good tenants. That's because bad tenants often drive away good renters by blasting music, damaging community property or performing illegal or unethical activities. When this happens, you may develop an unwanted reputation as a party-friendly community or a property that isn't safe for families.
Tenant screening services protect your financial affairs, but they also protect your existing renters. Thoroughly screening tenants helps lower your chances of offering homes to undesirable renters, which in turn keeps current tenants happy. Also, implementing a tenant screening process makes existing tenants feel safe because they know your community doesn't just accept anyone. It may also deter current residents from engaging in unethical activities because they know you find these actions unacceptable.
Why Should I Offer an Online Rental Application?
Landlords often have hectic days filled with questions and complaints from current residents as well as potential renters. An online application reduces the time you spend reviewing new applicants, and it also makes the application process easier for potential renters. This frees you up to focus on other property-related concerns, such as scheduling repairs, marketing your rentals or requesting lawn care services. The, in turn, allows you to build your business while meeting the needs of current tenants.
Our online rental application also helps prevent legal issues that arise from uniformed landlords who unintentionally violate federal housing guidelines. The Fair Housing Act has specific guidelines landlords must follow if they want to avoid legal action. For example, you cannot discriminate against applicants for personal reasons including religion, race, or sex. We're well versed in fair housing laws, so our online rental applications contain questions that meet state and federal guidelines.
Who Pays for Tenant Screening?
Depending on which package you choose, you can pay for tenant screening yourself or incorporate the cost into a renter's online application. MyRental Premium and Premium Plus packages let potential tenants pay us directly with their credit or debit card.
Payment is required prior to running a tenant check. We offer monthly bundles as well as individual reports such as a credit report, statewide criminal background check or eviction history report. Our products don't require on-site installation, and once you pay, you can access many services immediately.
Landlords face many risks, from late or missing payments to property damage. Tenant screening services identify risky renters so you can protect your property — and your bank account. Make informed decisions with detailed reports that highlight the strengths and weaknesses of potential tenants quickly. If a tenant doesn't meet your rental standards, you can confidently move on to the next applicant.
Topics: rental, property rental, tenant screening, background check
Posted by Admin 3:05:58 PM
Subscribe to Email Updates