Quickly and easily identify Qualified tenants!
Fill vacancies faster by giving your prospective tenants a free, mobile-friendly way to submit applications online, with the option to include a background check.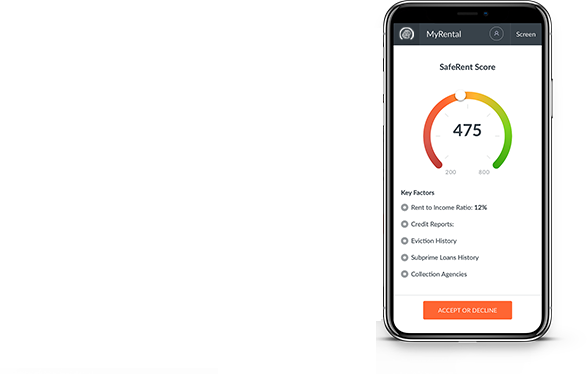 Step 1: Collect Applicant
Information.
Gather the first, middle, last name, and email addresses of the applicants whom you would like to create a rental application for.

Step 2: Set Up User Account.
Sign Up for your MyRental LandLord / Agent account.

Step 3: Start the Rental Application process.
Select 'Get Started' and 'Rental Application'.

Fill out the rental property information, including address, monthly rent and lease term.

Step 5: Add Application Information.
Fill out the applicant(s) information, including first, middle, last name and email address and any co-signers if necessary.

Step 6: Specify Required Documents List.
Select additional documents you would like the Applicant to provide along with the application. Examples include: Copy of Driver's License, Pay Stub, etc.

Step 7: Choose Screening Option.
Decide whether to include a credit and background check for your applicant(s). The screening can be sent after tenants submit their application.

Step 8: Decide who will pay for the screening. (Skip this step if not including screening)
If including screening, choose who will pay for it (you, primary applicant or each applicant)

Step 9: Review and Confirm.
Carefully review all the details of the application and make any edits using the pen icon. Enter promo code if you have one.
If this is your first screening/application in MyRental or if you have selected to pay for the screening by yourself, you will be asked to enter the Credit card information.

If you are not the payer don't worry, you will not be charged.

Success!
You will receive a confirmation that the application was sent. You will be notified once the application and/or screening is completed and ready to be viewed. You may check the status of the application and/or screening on your homepage.