Quickly and easily identify top quality tenants!
Purchase single reports or conveniently bundled packages without set-up fees or minimums.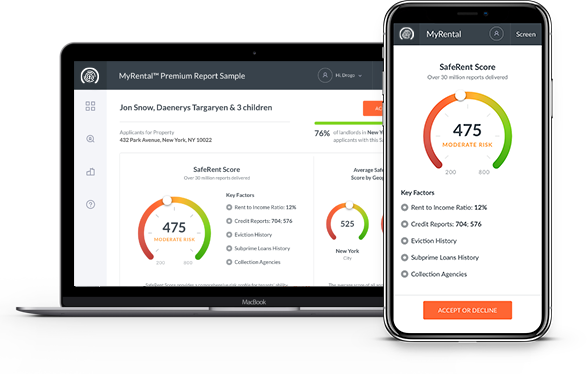 Step 1: Collect Applicant
Information.
Gather the first, middle, last name, and email addresses of the applicants you would like to screen.

Step 2: Set Up User Account.
Sign Up for your MyRental screening account.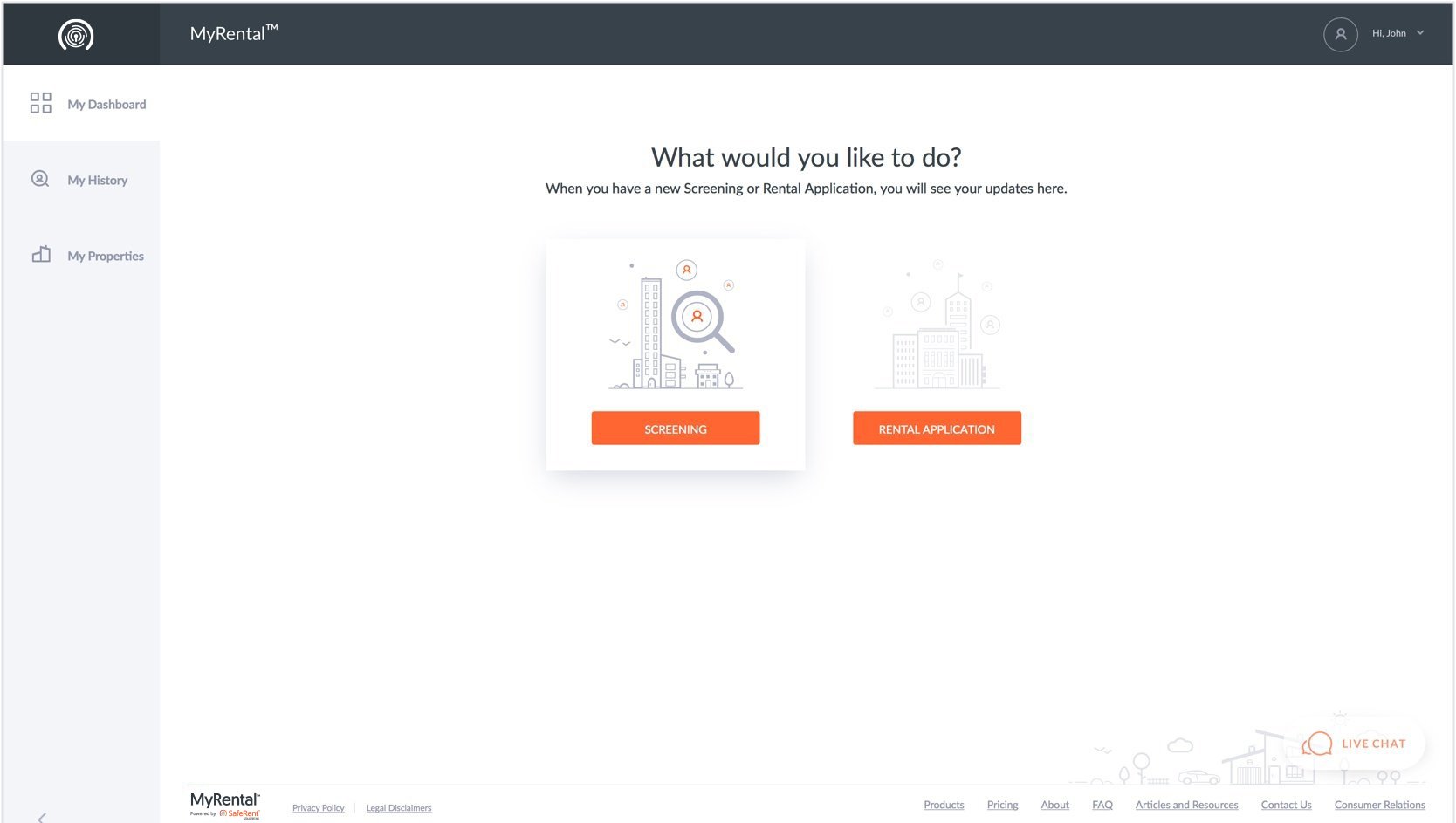 Step 3: Start Screening.
Select 'Get Started' and 'Screening'.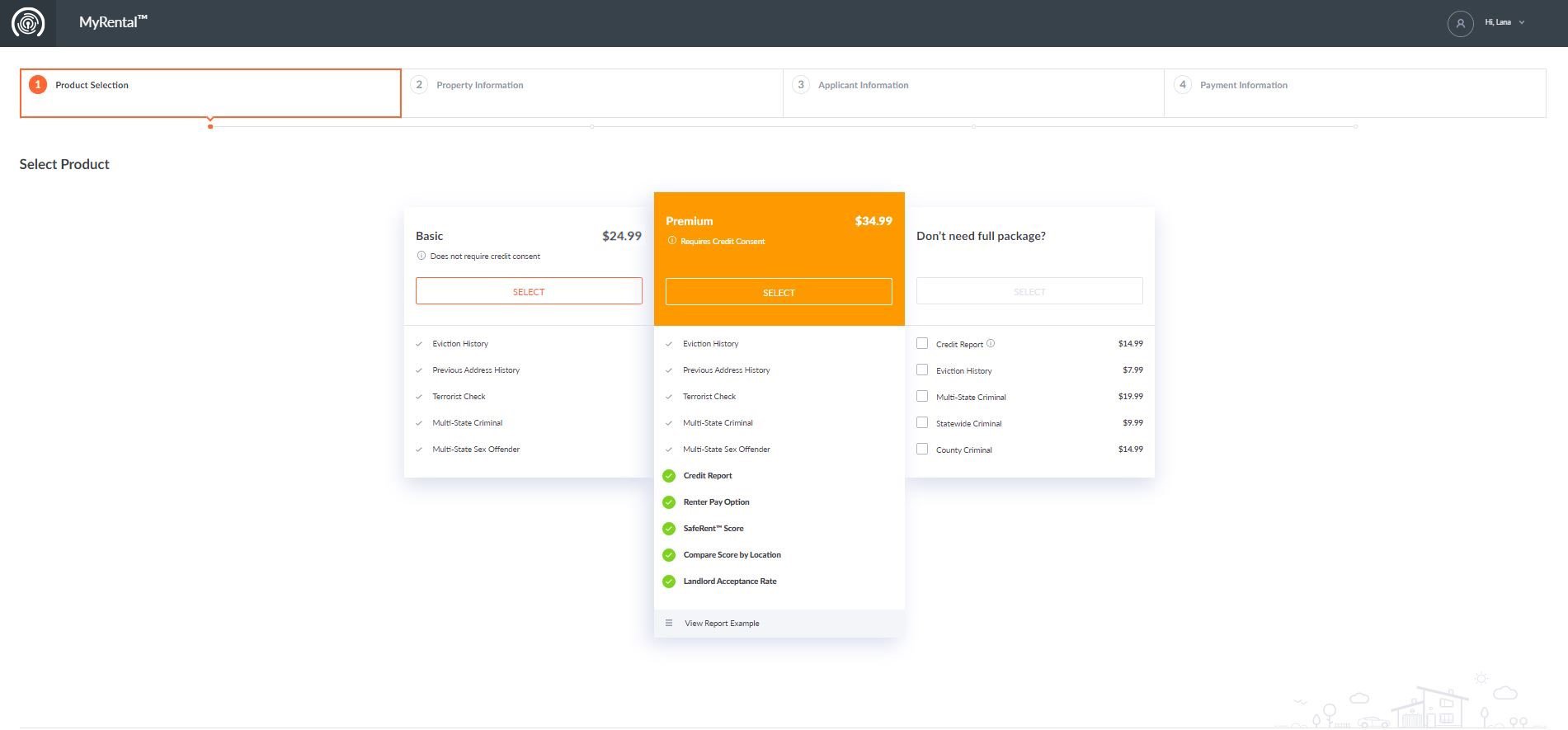 Step 4: Select Package.
Select appropriate tenant screening package. The Premium package allows you to purchase a full credit report, background check, and our proprietary statistically validated screening score.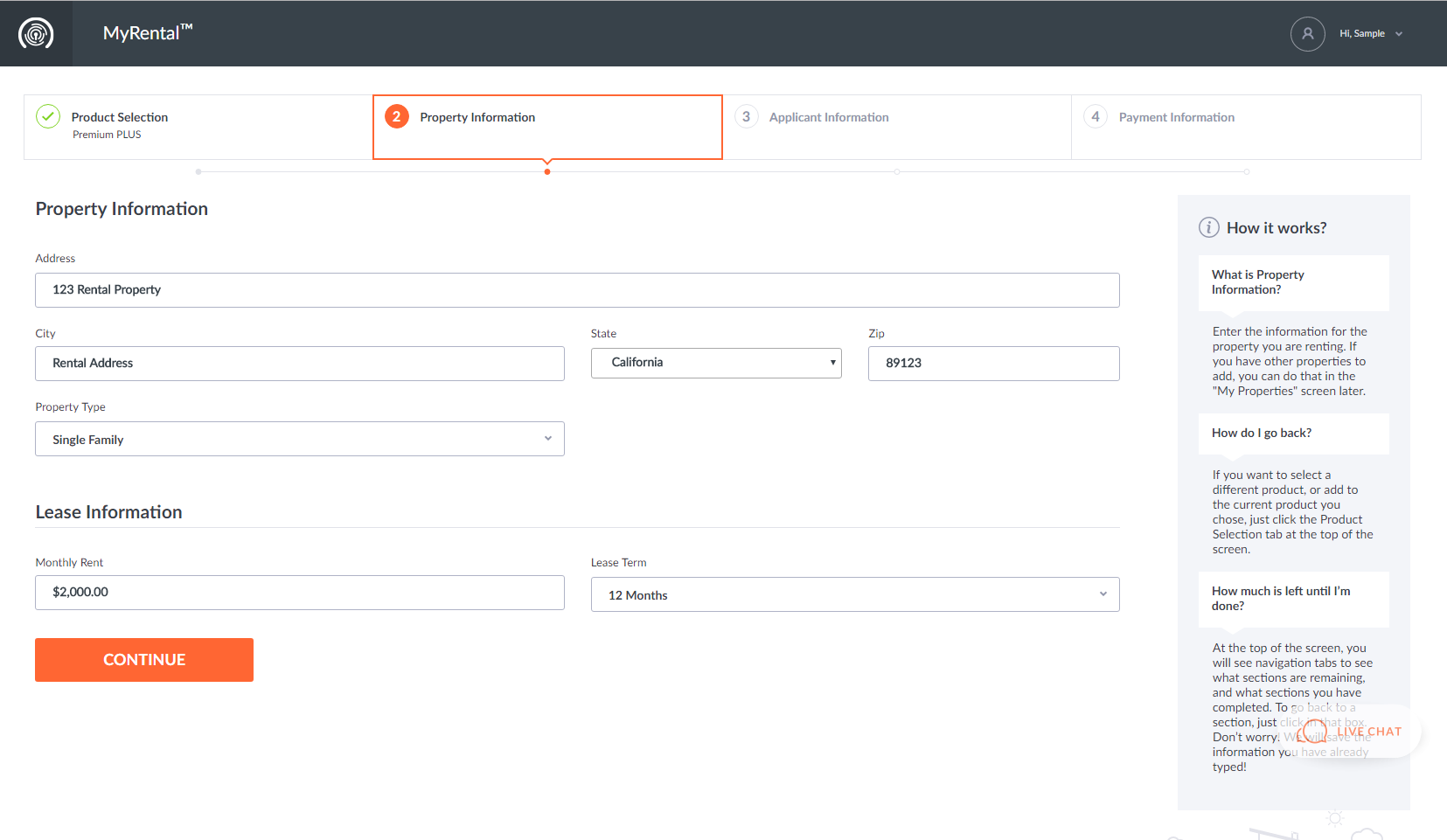 Step 5: Set Up Property.
Enter the rental property that you're screening for, including address, monthly rent amount and lease length.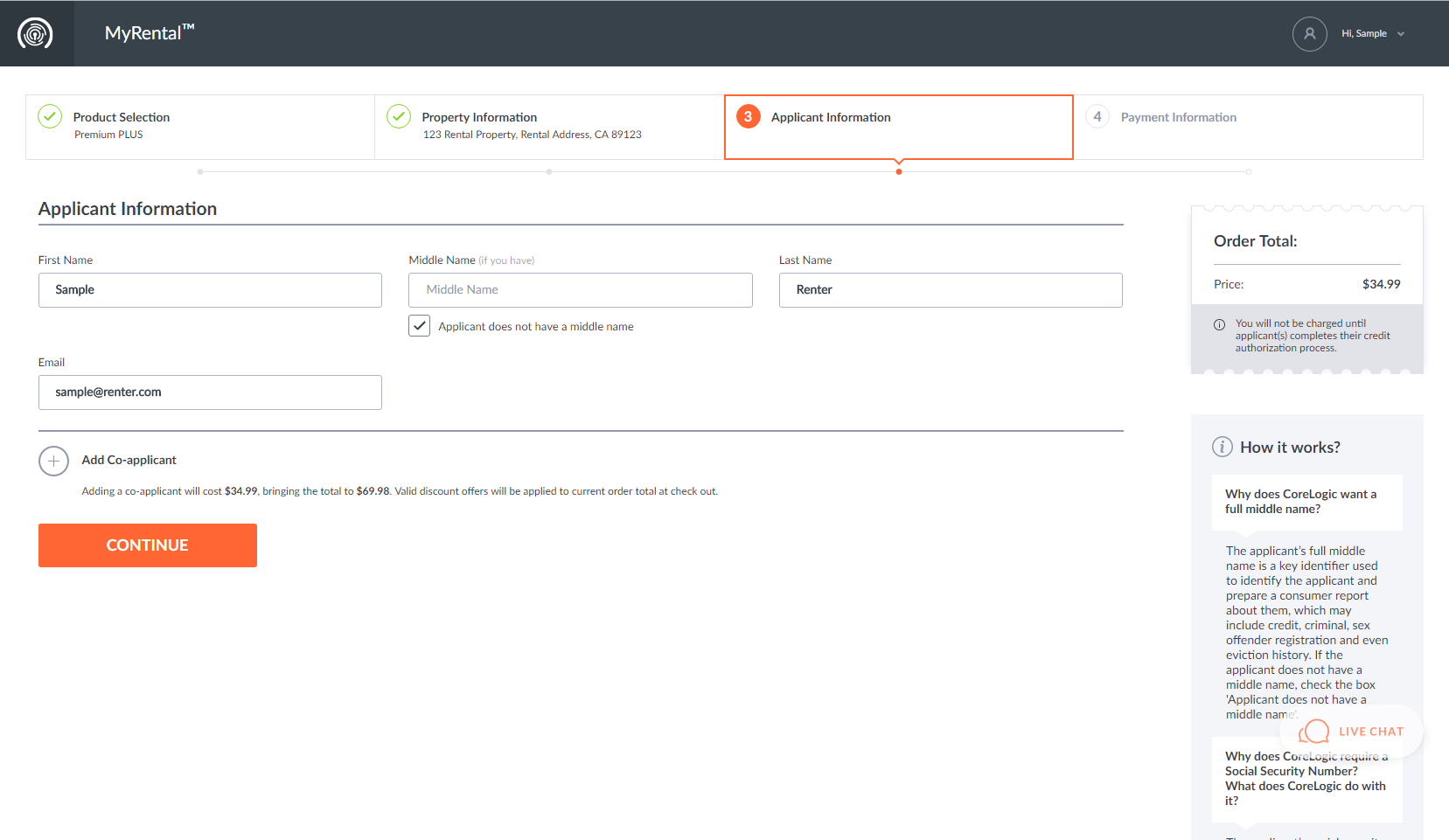 Step 6: Enter Applicant Information.
Enter the first, middle, last name, and email address of each applicant. Use the + button to add co-applicants – and be sure to indicate if any co-applicant is a co-signer by selecting the Co-Signer toggle, then select Continue.
Be sure to enter the complete middle name of all applicants. If they don't have a middle name or you don't know it, be sure to check the box by the middle name field.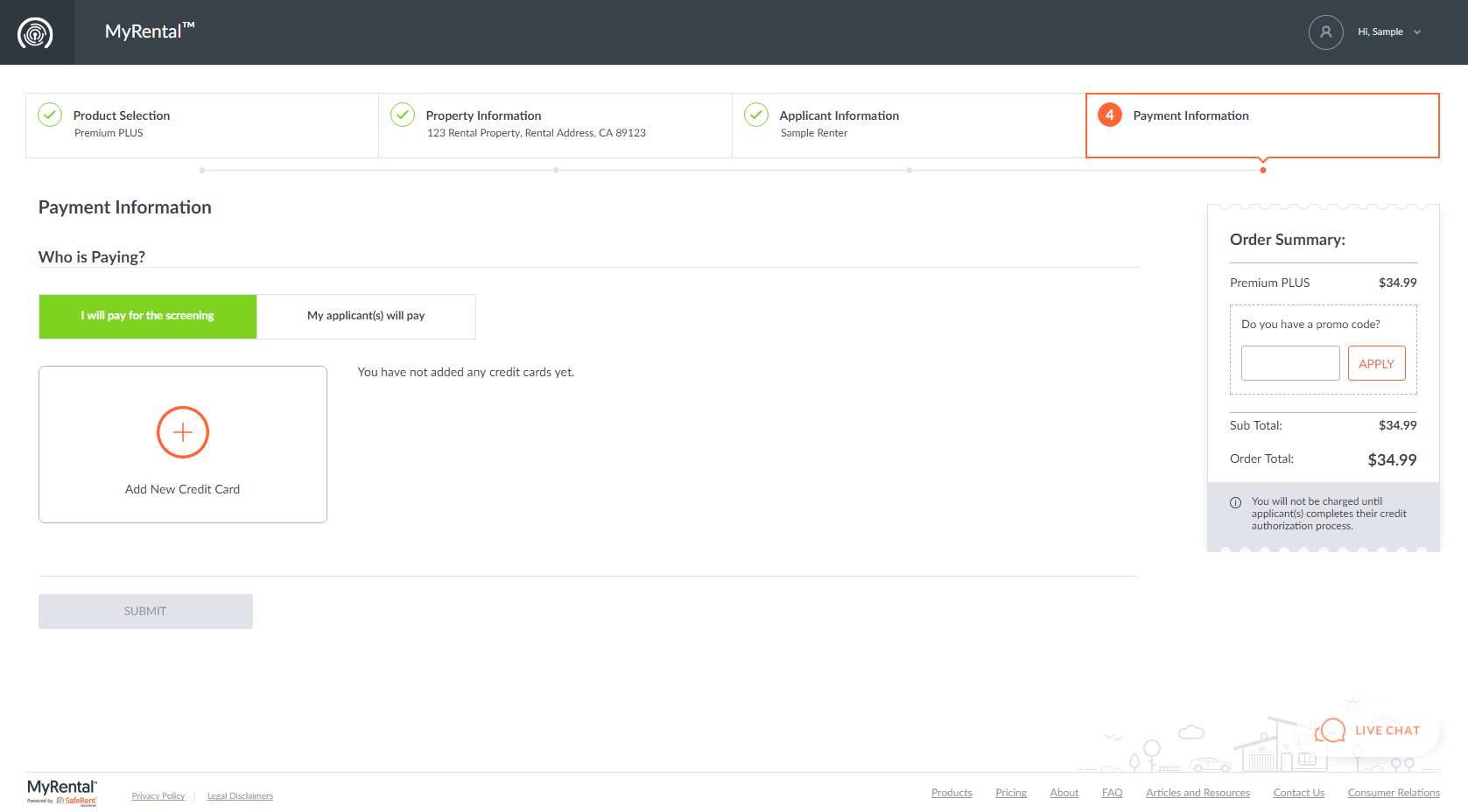 Step 7: Select Payment Option.
Decide whether you would like to pay for the tenant screening report, or if the applicant(s) should (applicant pay option is available with the Premium package only), then select 'submit'.
If you decide to pay the fee yourself, enter your credit card information to continue. Your card will be charged as soon as the tenant reports are available.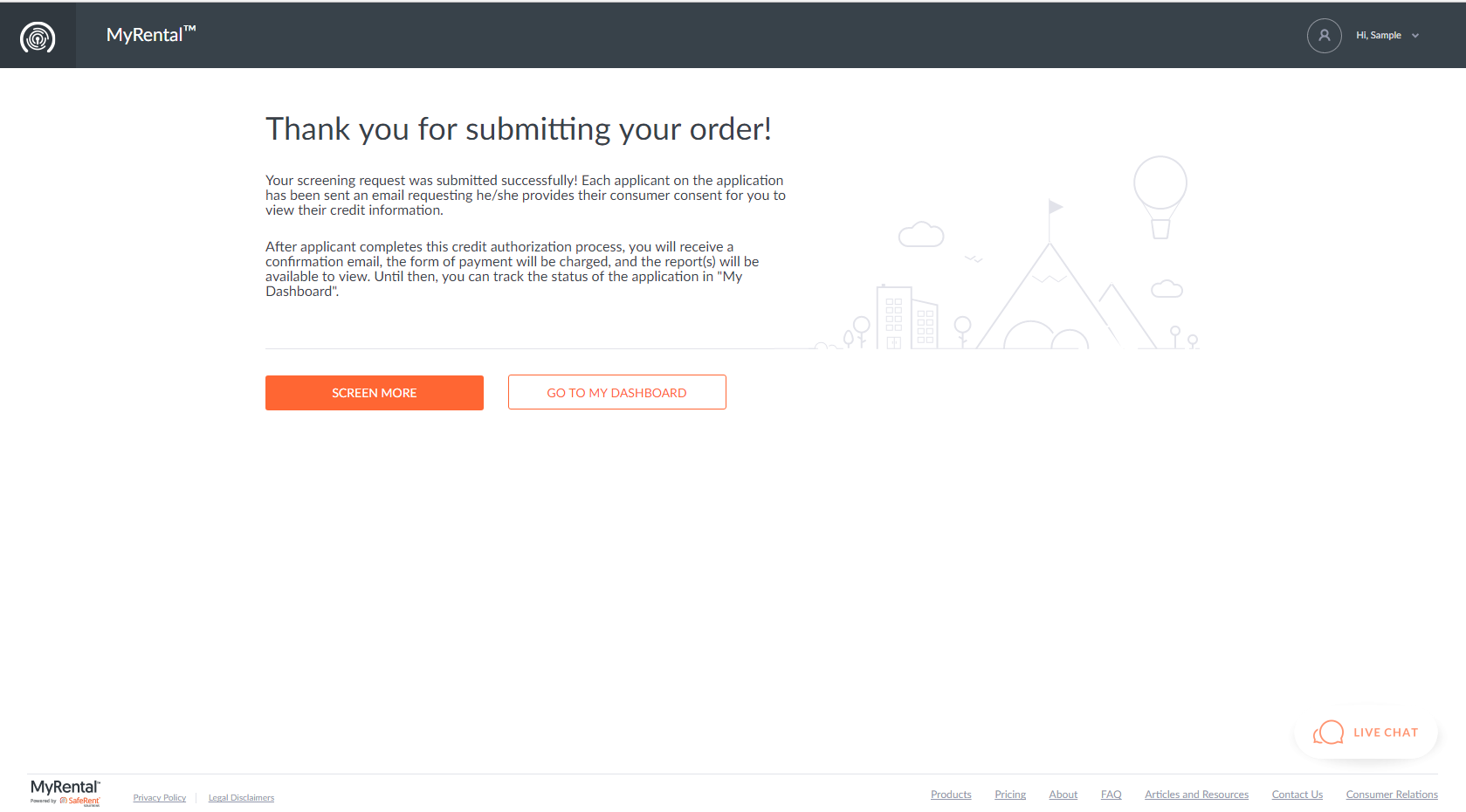 Step 8: That's it!
Now an email will be sent to each potential tenant so they can complete the online application and release their reports to you. As soon as the screening reports are available, you will receive an email to review and make an educated leasing decision.
See application status via your homepage. Select applicant name to view detailed status.

Acceptance/Adverse Action Letters
Once you have viewed the reports and made a decision, you may click the "Accept or Decline" button at the top of the report page.

Clicking this button will bring up 2 options that you can toggle back and forth where you can view, download, print, and send the letter to the applicant(s).
Accept Application: This will allow you to view the Acceptance/Welcome Letter

Decline Application: This will allow you to view the Adverse Action Letter
Understand that MyRental.com only provides a leasing recommendation as to each applicant, and all rental decisions will be made by you. You are responsible for compliance with all applicable federal and state law, including but not limited to, the Fair Credit Reporting Act 15 U.S.C. 1681 et seq. ("FCRA"). Recall that an adverse action is any action you take that is unfavorable to the interests of a consumer (e.g., denying the application or requiring a co-signer on the lease). Whenever you take an adverse action against a consumer that is based on information contained in a report obtained through MyRental.com, you must provide the consumer with an adverse action notice. Provide, at a minimum, the following information required by Section 615(a) of the FCRA (15 U.S.C. § 1681m(a)) in an adverse action letter: a statement that adverse action has been taken based in whole or in part on a report received from a consumer reporting agency, the name, address, and telephone number (including the toll-free telephone number) of the consumer reporting agency that furnished the report to you, a statement that the consumer reporting agency supplying the report did not make the decision to take adverse action and is unable to provide the consumer with the specific reasons why adverse action is taken, and a statement that the consumer may, upon proper identification, request a free copy of the report and may dispute with the consumer reporting agency the accuracy or completeness of any information in the report. Note that the adverse action letters available on the Lease Decision page are merely samples provided for guidance purposes. Before using any sample adverse action letter, you should consult with an attorney to ensure compliance with relevant laws. Finally, you may also want to consider the Federal Trade Commission's publication "Using Consumer Reports: What Landlords Need to Know" available at https://www.ftc.gov/tips-advice/business-center/guidance/using-consumer-reports-what-landlords-need-know . 4824-5754-7593, v. 1