Select the best available applicants with consistency and confidence.
Just as a credit score predicts the likelihood that a loan will be paid, our tenant score assesses risk by predicting the likelihood a tenant will fulfill a lease obligation.
Using inquiry, credit, and eviction data, MyRental generates a three-digit score between 200 and 800. The score summarizes the potential risk of the applicant compared to others. The higher the score, the less likely the applicant is to default on a lease.
Each individual score is based on data from multiple sources, including:
Application information

Payment performance

Eviction history

Past due accounts

Bankruptcy records

Credit bureau data and scores

And more!
MyRental takes all this information, analyzes critical variables, and delivers a single score that indicates the risk of each application. Because we provide tenant screening and scores to thousands of apartment complexes and rental homes, we know which elements correlate with low risk applicants. This allows you to
Select the best available applicants with consistency and confidence
Choose candidates better able to absorb rent increases by choosing applicants with higher credit quality

History on rental non-payments and evictions.
Excellent payment history
The Premium report delivers a chart that indicates, at a glance, how your applicant's tenant score stacks up against the average in your region (by Zip code, city, and metro).
You can also easily see whether or not other landlords in your area have accepted or rejected applicants with the same score. While these percentage values do not represent a CoreLogic recommendation, they can provide valuable insight into the state of your rental market.
MyRental Premium Report Example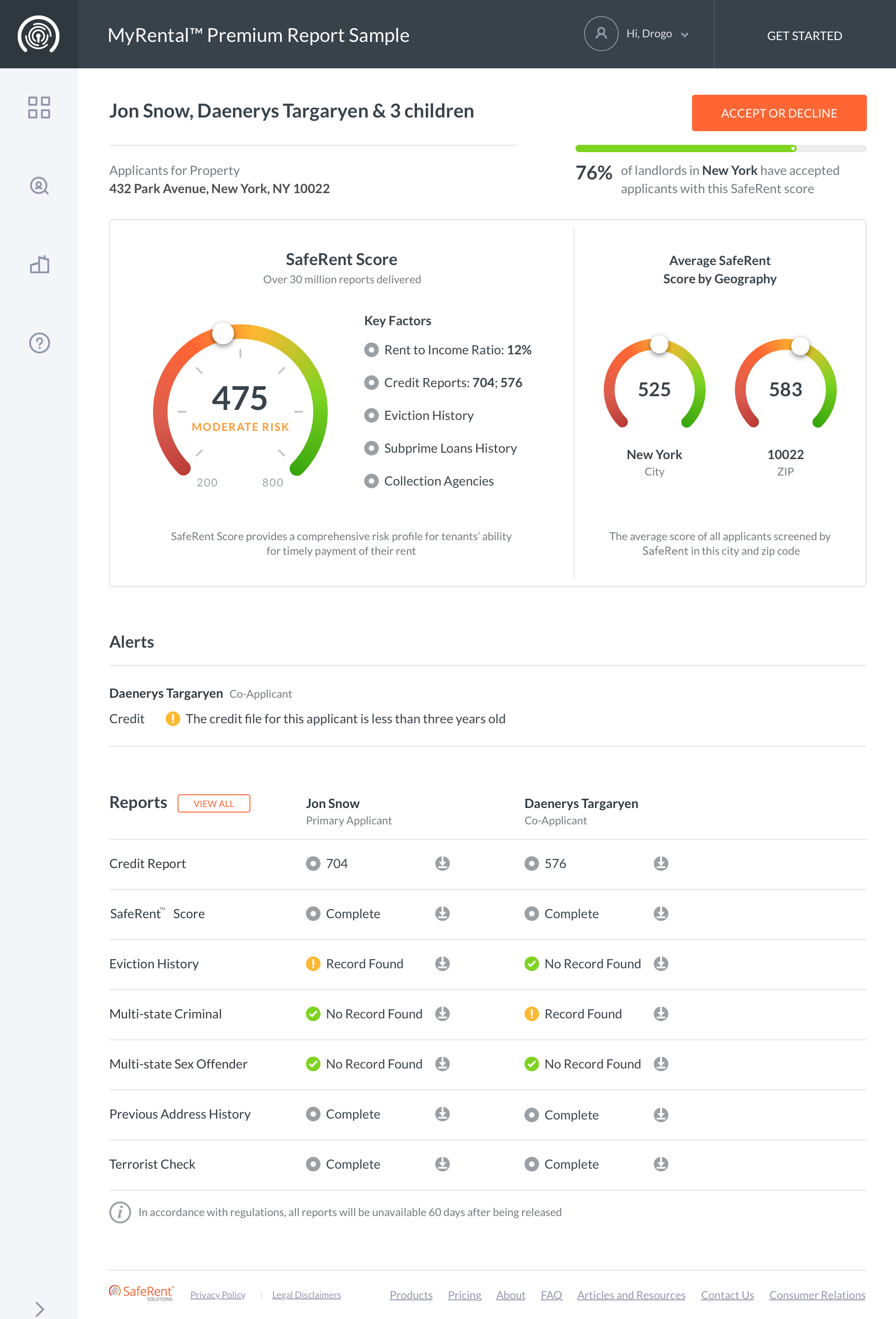 Quickly and easily identify top quality tenants!
Purchase single reports or conveniently bundled packages without set-up fees or minimums.